Pan 180°Wireless Outdoor Security Camera with Two-Way Audio,Night Vision, IP65 Waterproof, Motion Detection Alarm,Remote Acces.
Let You Watch Over What You Love from Every Angle, Indoors and Outdoors, Day and Night, Rain or Shine. Watch over your home in the clear 2MP HD video, and see the visitors from anywhere. With instant motion detection and mobile alerts, You can see what is happening from your smartphone.
Easy to Set Up - Connect the camera with the power supply and download the free app to add the camera, then you can enjoy the live video at once.
Ultra HD Video Recording - There is a 2.0MP image sensor at the core of this home security camera, which can capture vivid Full HD videos.
Quality Night Vision - It has 18pcs infrared LED's around its lens and can capture high-quality video(black and white) at night up to 65ft away.
Pan180° Security Cameras - the Pan function enables you to adjust the camera angle(180°horizontally) in the application to monitor the area you want in real-time.
Motion Detection and Message Alert - ANRAN outdoor surveillance camera will capture motion activities, a real-time notification will be sent to the phone, open the app, you could check what is happening immediately
Two-Way Audio - This WiFi security camera comes with a built-in microphone and a speaker, so you can hear things and talk through them using the app.
IP65 Waterproof Outdoor Camera - Not only as an indoor security camera, IP65 waterproof rating means it is solid enough to against harsh environments like rain or snow.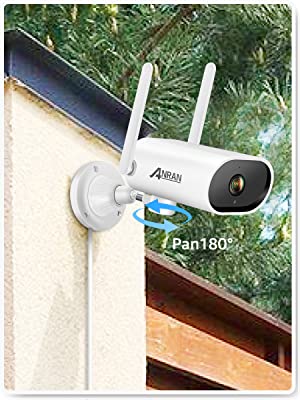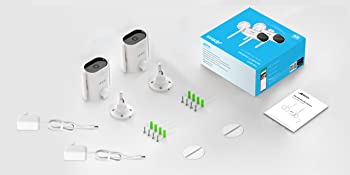 what's included?
2 x ANRAN Outdoor Security Camera
2 x Power Supply (12V/1A) for Security Cameras(SD not included)
1xQuick Installation Guide
1 x Warning Stickers
2 × Screws
ANRAN, Make Security Simple, Smarter
[ Note1 ] Wireless means wireless Internet connection, but also need to be plugged in the power supply/outlet for 24/7 recording.
[ Note2 ] The camera just only supports pan Tracking 180°, which can't be vertical.
[ Note3 ] This outdoor wireless security camera doesn't compatible with anran camera system.
Technical Specifications :
Resolution Image : 1920×1080 Pixels
Lens : 3.6mm
Night Vision : 65ft, 18Pcs Infrared LEDs
Power Supply : DC 12V/1A Power Adapter
Audio : 2-Way Audio (Built-in Microphone)
Remote Access : iPhone/Android Phone.
Working Temperature : -20°C -50°C (-4°F-122°F)
Pan 180° Camera Controlled by APP

90° wide-angle 3.6mm enhanced lens combined with 180° horizontal rotation range reduces blind spots. You can remote control the camera via the free app to rotate left/right and point to any angle you want. just only support pan180°, can't be vertical.

Easy Installation

This security camera is designed and engineered for quick and easy installation. Ture plug & play - giving you more flexibility, and freedom in its installation. There is dual adhesive tape at the bottom of the bracket, easy to install on the wall or ceiling. (You can also install it with include screw).

Effortless Wireless Connection

Enjoy the freedom to place the IP camera anywhere in or around your house with no video cable or network cable needed(the camera needs to connect the power adapter), it steady and reliable Wi-Fi transmission between the router and camera.
Motion Detection and Message Alert

You will receive an alert message upon motion detected and click the message you will be directed to the alert video to check what is happening, never miss any emergency case. You could also download the alert videos from app.

Clear Two-way Audio

Built-in noise-reduction microphone & speaker allows you to talk with the visitors freely, and deterrent alarm can scare away any intruder. The front microphone design can receive clearer audio and make you hear more clearly. This unique feature will provide you with additional evidence (such as voices) when the need arises.

Weatherproof WiFi Camera Outdoor

Rated IP65 waterproof, the outdoor security cameras can work well in all extremely harsh weather, regardless of rain or shine, snow or fog. Perfect for villa, home, office, shop, hotel, school, supermarket, or elsewhere. Operate temperature: -20°C -50°C (-4°F-122°F)
Clear Day/Night Vision

Adopted 2.0MP optical lens, this home security camera presents 1920×1080p high definition frames, which are much clearer and sharper than 720P cams. Additionally, It has 18pcs infrared LED's around its lens and can capture high-quality video at night up to 65ft away.

Encrypted Cloud and SD Card Storage

The app encrypts all video footage within the cloud or local storage. The security camera can support up to 128GB MicroSD (not included) and is encrypted and protected content rendering it unreadable using outside resources. Free 7-day trial of our cloud subscription storage services.

Easy to Remote Access

The app controls all ANRAN wifi outdoor camera settings and alerts from a smartphone or iPad for viewing, two-way voice communication, and more. Connecting the app to the security camera is easy and fast! Just follow the steps on the app, face the QR code to the camera, wait 30 seconds, and your connections.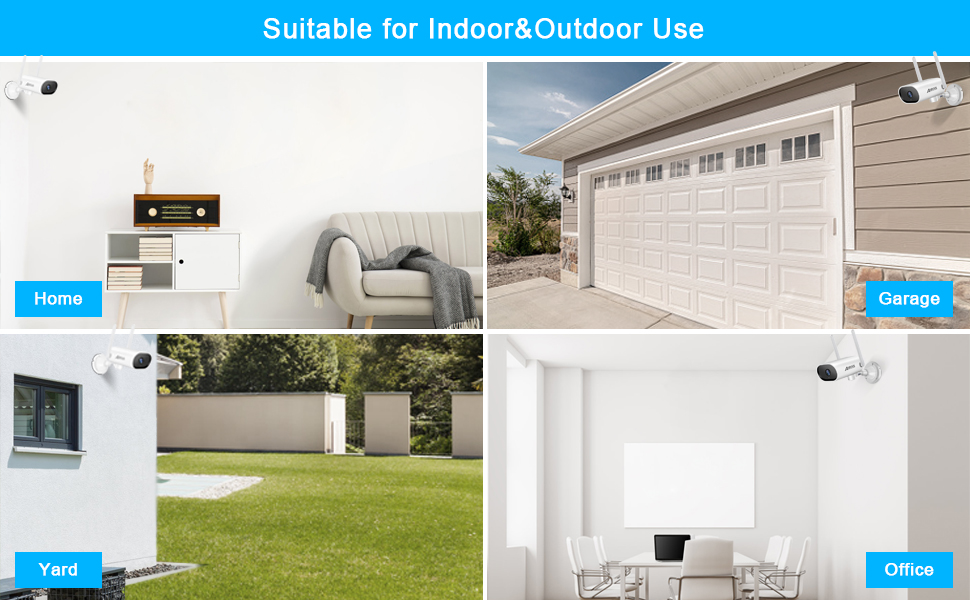 FAQ about ANRAN WiFi Security Outdoor Cameras:
Q: Does the camera need to connect to the power supply?
A: Yes, it needs to be plugged into an outlet for continuous power. Wireless means that this wifi camera transmits data via 2.4 GHz WiFi, not support 5.0Ghz WiFi.
Q: Do I have to subscribe cloud service to use the camera?
A: No. Cloud Storage is optional. Users can use the camera without subscribing to cloud storage, a Free 7-day trial of our cloud subscription storage services.
Q: Can this record 24/7 continuous to the SD card and still alert your phone when there is motion? (Note that you need one SD card for this camera)
A: Yes, it can be recorded continuously. If your Micro SD is full, it will overwrite the previous content, and you can still use it continuously.
Q: Which PC APP I can view this camera?
A: This outdoor camera doesn't have a PC APP at present.
Q: Does the security camera detect any movement and will alert you? Will there be a delay in motion detection?
A: No, our ANRAN security camera can set the sensitivity of the monitoring point. For wind, grass, and other sports, it may not send you an alert. There will be no delay in our motion detection, and an alert will be sent to you immediately.