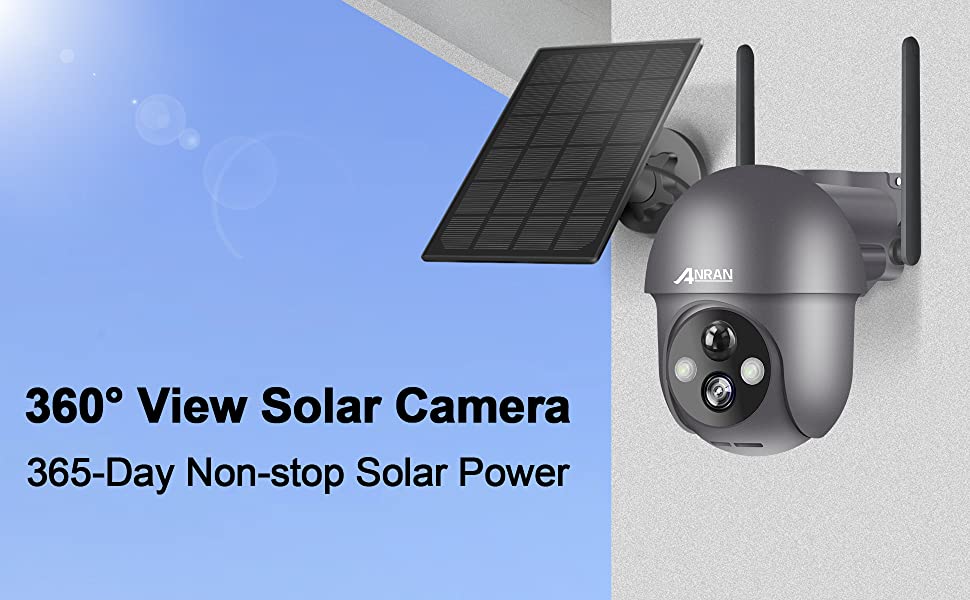 ANRAN Solar Camera with 360° View
100% No Hassles of Wiring - No electrical wiring jobs. Work great with Anran Solar Panel at non-stop power.
An Eco Solar Security Solution - Save up to 50 BKS each buying Anran Q1 instead of others with excessive Pixels 2K feature but missing the Awesome Spotlight and Siren Alarm features at excessive high PRI. You can pay extra 10 or less to get Anran 2K version Q3 to be released soon.
A Rare and Remarkable Solar Camera Below 100 - Anran Q1 is a rare remarkable choice of Solar camera with latest and complete features: 360° view Pan Tilt, Crisp video quality 1K/2MP, Cute and Stylish ID Design(Gorgeous Camera Face, Eyes and body), Smart Siren Alarm, Spotlights, Color Night Vision, PIR Human Detection, Two-way Talk, Waterproof.
Tips to Know Before Purchase: 1K 2MP and 2K (3MP/4MP) display no difference on small screens, especially phone screens too small and only applicable on big ones more than 50-inch size.
Crisp Image Quality - Equipped with a great Super HD image sensor and optical lens, great image and video quality.
More Sensitive and Accurate PIR Sensor - Protect the property and send instant and accurate alerts.
US-Based Support and Cloud Service - Your privacy and satisfaction are always Anran's Top Priority. Please never hesitate to call or message us when you need help or service, you can find the contacts of Anran Support team on the user manual.
7-Day Free Cloud Storage Included - No hidden costs, subscription plans are optional and the cloud can be closed manually.